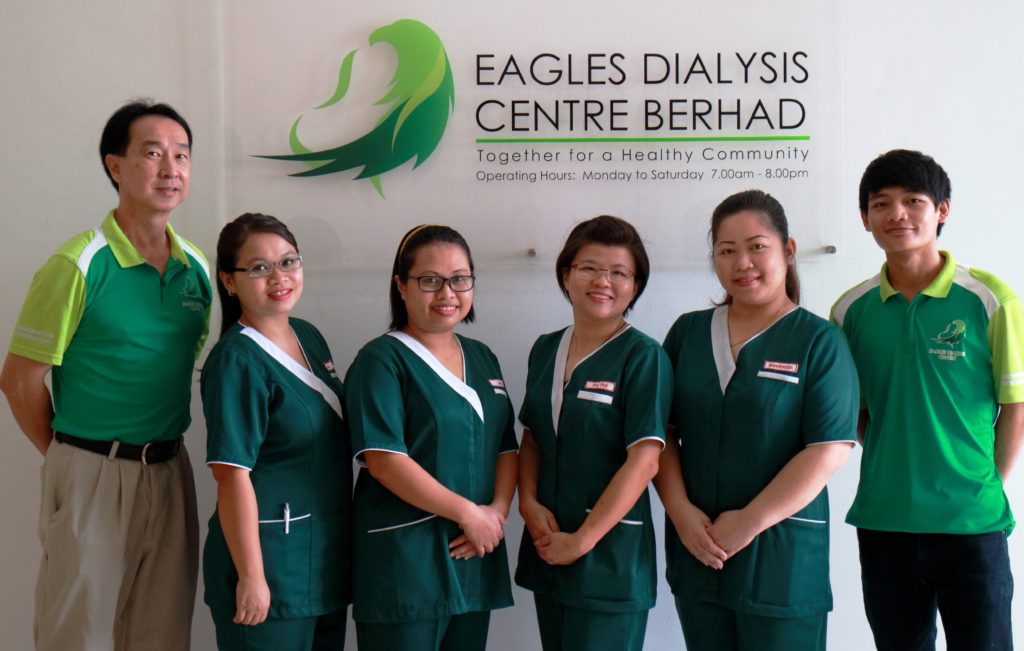 Eagles Dialysis Centre (EDC) is a faith-motivated community project of FGT. Opened in April 2013, the purpose of EDC is to provide haemodialysis treatment on a non-profit basis to the community, irrespective of race and religion.
This is part of our mandate to serve the less fortunate in our society, namely end-stage kidney failure patients from the lower income groups so that they can obtain affordable and quality haemodialysis treatment.
Address: Level 2 of Wisma Eagles. No. 11, Jalan TP6, Taman Perindustrian UEP, 47620 Subang Jaya.
Phone: 03-5885 3788. Fax: 03-5885 3766
Opening Hours: Mon to Sat, 7am – 5pm. EDC presently operates on 11 dialysis machines, with separate facilities to accommodate haemodialysis patients with Hep B.
For more information: Please email eaglesdialysis@gmail.com or call Ms. Lim Fang Say at 03-5885-3788.
To apply: Kindly click here for the application form. And here for temporary dialysis treatment. EDC operates as a non-profit centre.
If you wish to contribute: You may make a one-time financial contribution or pledge a monthly donation by cheque or credit card. Cheques should be earmarked for "EDC" and made payable to "FULL GOSPEL TABERNACLE BHD". Please mail to: Full Gospel Tabernacle, Wisma Eagles, No. 5, Jalan TP4, Taman Perindustrian UEP, 47620 Subang Jaya, Selangor.
We welcome your contribution and partnership with us in meeting the needs of the poor and needy in our community!
How you can be involved:

(1) Help wash blankets and sheets used by dialysis patients (fortnightly / monthly basis)

(2) Help clean non-essential areas at EDC premises e.g. windows, blinds, glass doors, waiting room, RO water treatment room, main entrance, ceiling etc (bi-monthly / quarterly basis)

(3) Provide transportation for patients from their home to EDC and back (on need basis)

(4) Provide transportation and accompany patients to public hospitals for medical attention (on need basis)

(5) Partially sponsor or provide financial assistance for needy patients

(6) Help with repair and maintenance

(7) Help us with various administrative functions – Help individual patients fill and submit applications for state and federal financial assistance – Update patient data and records – Help with courier service

(8) Help us organise publicity and promotion events: – Publicity & promotion for Community Awareness e.g. brochure, facebook, blogs, write ups – Organize events, talks, outings

(9) Bless the patients with a home made meal e.g. sandwiches, noodles (weekly)

(10) Visit the patients at home or in the hospital – dialysis patients and their care givers go through ups and downs and need encouragement!